As you grow older, your body relaxes. And, by relaxes, we mean sags.
Your brows droop, the skin around your neck becomes loose, and your jawline becomes less defined. You can't really make out one side of the face from the other— but that's aging for you.
Though there are numerous treatments available to minimize the signs of aging, everyone may not be a candidate for them. Since many treatments such as surgical facelifts are highly invasive procedures that require a lot of time, money, and effort, not everyone can get them.
As a result, numerous alternative treatments and solutions have come around. One of them is ultherapy.
What is Ultherapy?
Ultherapy is an alternative to a surgical facelift. It lifts and tightens the skin around the neck, chin, brow, and décolletage. This procedure transmits waves that penetrate into the skin without disrupting the surface level, leading to facial and skin rejuvenation.
The usage of ultrasound energy boosts natural collagen and elastin production, leading to extremely natural-looking results.
What Can Ultherapy Treat?
Ultherapy can treat a number of things. As we age, our body naturally loses collagen and elastin, leading to saggy skin and wrinkles. This can lead to lines and folds, which can be corrected by ultherapy.
Ultherapy also treats jowls, the loose skin that hangs below the chin and jawline. Since they're natural signs of aging, there's little one can do to prevent jowls from occurring, making ultherapy a great solution. It also helps treat sagging and stretched-out skin, making the skin and face appear younger and fresher.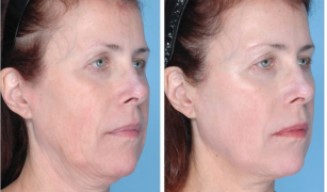 What Are The Benefits of Ultherapy?
Ultherapy was cleared by the FDA in 2009, with over 526,000 nonsurgical procedures such as ultherapy being performed in 2016.
Super convenient, the whole procedure lasts between half an hour and 90 minutes. There's no anesthesia required, with minimal preparation and recovery time. It provides completely natural-looking results and is an excellent alternative for those who favor subtle changes rather than drastic transformations to their face.
Ultherapy Skin Tightening Center in Arlington
Ultherapy results start showing three to six months after treatment, and we recommend repeating the procedure once every two years. However, if you get your ultherapy procedure done by professionals, you won't have to worry about results.
At Shimaa Beauty Center, we have a team of professionals who can perform ultherapy to help tighten your facial skin. We also have Derma Fillers, Micro-needling, PRP injections, cosmetic Botox injections, PDO Thread Lifts, and more.
Get in touch with us at (817) 210-5085 or email us at [email protected] for more info on our services.