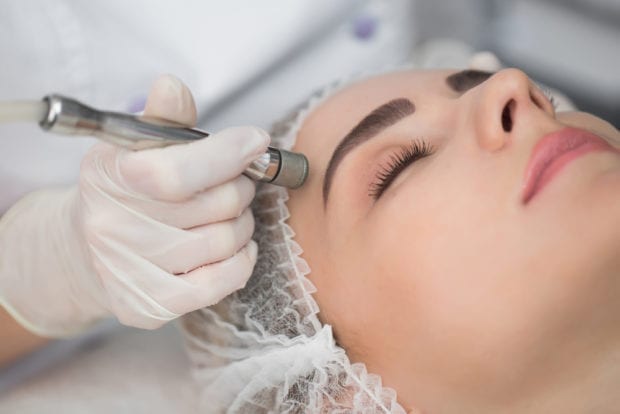 ​
Microdermabrasion
$100 Per Treatment
Procedure Time 45 min
Microdermabrasion: What is it and how does it improve your skin?
Microdermabrasion promises to remove the top, dead layers of the skin and unveil a fresher, brighter-looking complexion. At Shimaa Beauty Center, we offer premium exfoliation treatments to our clients. Our Microdermabrasion treatment is less aggressive and uses tiny crystals to exfoliate and remove your dead skin cells. This treatment is high on exfoliation but low on aggressiveness, which is why our patients don't need numbing cream for this treatment. Microdermabrasion can help remove sun damage, fine wrinkles, and reduce age spots.
Clients are left with clear and more supple-looking skin. The best part about our Microdermabrasion is that its results can last you up to a month!
Avail of our Microdermabrasion treatment in Arlington today, and enjoy younger, softer, and brighter-looking skin.
During a crystal microdermabrasion, micro-fine crystals are shot from a small tube onto your skin and simultaneously vacuumed back up. Think of this as working like a high-powered scrub. There is a crystal-free version of microdermabrasion that uses a diamond-tipped wand to exfoliate instead.
Microdermabrasion has many benefits. Just one treatment leaves the skin feeling soft and smooth, and looking radiant. With a series of microdermabrasion treatments, pore blockages and blackheads are reduced, and there is a softening of fine lines.
How Many Treatments Are Needed?
How many treatments you will need is completely depended on what your end goal is. Just one treatment will leave your skin looking bright and feeling buttery soft.
But if you're looking for improvement of a specific skin problem, you really need a series of treatments to see any positive effects. The results you get from microdermabrasion are cumulative.
Generally, six to 10 treatments are scheduled 7 to 14 days apart. The number and frequency of treatments varies depending on your skin's needs and your skin care goals. The technician doing your procedure will let you know the best treatment schedule for your specific situation.
Does Microdermabrasion Hurt?
The thought of having crystals blasted onto your skin, or a diamond-tipped wand dragged across your face, seems brutal, it really isn't as bad as it sounds. Some of our patients liken the feeling to the rough lick of a cat's tongue. Others describe it as a gritty facial massage or report feeling just minor tugging on the skin.
However, it's described, you needn't worry. Because it works on just the surface layers of the skin, microdermabrasion isn't painful.
Schedule Free ConsultationBook Microdermabrasion Treatment $69